By Amber McClure
Posted Friday, May 1, 2020
Stories from the HistoryMakers: HOT Comb
The HistoryMakers is the largest African American video oral history collection, and it's all available through the library with your library card. These oral histories inspire amazing stories and stir up incredible memories, like the ones shared here. This article is from the HistoryMakers' recent newsletter. They give special thanks to their college student brand ambassadors, Shanita Sanders of Arkansas State University and Syerra Williams of Morgan State University, for their contributions to the article. To find more stories from those who lived them, check out the HistoryMakers.
African American women have memories of being young and having their hair "pressed" with a hot comb. They remember the smoky smell of heated hair, the sizzling sound of the hot comb as it is placed on a wet napkin, or the required holding of an ear to prevent it from getting burned. Ah…the beloved hot comb. Whether it was for Sunday service, school pictures, or a special occasion, many African American women can recall their mothers, grandmothers, and hair dressers making sure their young ones looked presentable and dressed in their holiday best. But the story of the hot comb begins in the hair straightening period of the 19th century. It was "invented in France by a hairdresser named Francois Marcel Grateau. Grateau realized many of his Parisian clients wished to emulate the fine, straight hair often seen in old portraits of the ancient Egypt. To attain this look, he started to use heated iron combs and discovered that the heat helped the strands of hair to realize and straighten." This hair tool was brought to the United States by Elroy J. Duncan, who initially marketed it as a mustache grooming instrument. Then American women quickly adapted it for their hair, seeking similar hairstyles to the stars of the day.
Annie Malone (1869-1957) later became the first in the African American community to patent the hot comb, and her apprentice Madame C. J. Walker (1867-1919) later widened the teeth of the comb for better usage. The hot comb remained an essential hair styling tool well throughout the 20th century.
Bernice Johnson Reagon (1942 - ), founder of the singing group Sweet Honey in the Rock, described the African American hot comb tradition: "… you don't put the hot comb in the baby's hair until the child is old enough. And it was a ritual of passage. You get to a certain age, then you get your hair straightened for the first time. And then you still don't get it done for school. You get it done for Easter or big days at church. You get a hot comb, and you go across the street. And they put curlers in. This is like maybe twice a year. You cannot wait until, you know, you get to be a teenager and your hair is straight all of the time. So it's just ways of getting older."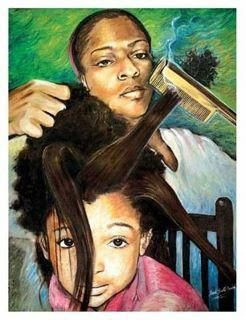 Then there was always the burning of the hair or the ears as noted by R&B singer Meli'sa Morgan (1964- ), when talking about her mother: "Good Lord, I mean, she was a great hair stylist, but she would always burn my ear. I don't—you know, she would say, 'Sit still.' If you've experienced getting your hair hot combed then I'm sure you can relate to being told 'sit still' to prevent getting burned, but still getting burned anyhow." Boston hair stylist Olive Lee Benson (1932 - 2005) shared a similar memory as Meli'sa Morgan when her father would style her hair: "I would say, 'OW! Oo, You burnt me' And he'd say, 'Keep still. Stay still.'" Television Anchor Monica Pearson (1947- ) eagerly recalled: "I remember the burning smell of going to the hairdresser, and them using those hot combs, and my hair was already thin."
Illustration from the book Hot Comb by Ebony Flowers, 2019 Having hot comb memories is not exclusive to just African American women; African American men also remember. Lawyer Randolph Noel Stone (1946- ) recalled living over the beauty shop and "the smell of hair." Reverend Charles Richard Stith (1949- ) said: "the room was so hot…this was back when the sisters were hot combing their hair, because of the heat, it just drew everybody's hair up." Bishop T.D. Jakes (1957 - ), remembered going to the barber shop as a boy, but also women doing their hair at home: "… hot combs and Bergamot grease and on the back end of the stove and the smell of that burning grease and my mother pressing my sister's hair, were the times that we lived in. Those were the days, and even the most erudite, charismatic black women had hot combs and pressed hairs. I mean it didn't get any more than that, the early days of Mahalia Jackson was one of our superstars, but her hair was still pressed…" Professor Barbara Ransby (1957 - ) said her mother wanted her to look like childhood actress Shirley Temple: "My mother wanted to design my hair like Shirley Temple. So we were sitting in the kitchen, and I don't know if you recall the era when black women would sit in the kitchen and put a hot comb on the stove and, you know, really get all of the curls and the kinks out of the hair… you smelled the burning hair…." For chemist Sharon Haynie (1955 - ) the hot comb experience was combined with paper bag curlers: "… my mother would lightly use the hot comb to, to comb out my hair and to curl it with paper bag curlers. So she'd take a paper bag and roll it up to give me, you know, lots of little curls. And so the memory of a burning hot iron (laughter) with those paper bags is a very searing memory." For broadcast journalist Roz Abrams (1948-) the hot comb was better than a perm: " I was afraid to get perms, because if you get enough of them, your hair is going to fall out. I would try and press it, but then I'd put the hot comb too close to your face, and they you got a big old white mark where the skin has burned away." Then for former NAACP Legal Defense and Education Fund president Elaine Jones (1944 - ), the hot comb was a way to make herself presentable for a job interview after graduating from the University of Virginia Law School: "I had a big afro on my first and second year, but I straightened that hair that summer [1970]… found a hot comb and got rid of the Nehru jacket and all, and got very serious and put on the little business suit. We called it a uniform, the little two piece and had the hair straight and showed up for the bar exam… see you know I'm going to stand out, because I'm African American. I don't need to show up there with a Nehru jacket and an afro." Hot combs are still in use today, but they have been replaced by perms, natural hair, weaves and braids, but the warm memories of them still prevail.