By Walkertown Branch
Posted Sunday, September 23, 2018
Woodworking Creations from the Sawtooth School for Visual Art are on Display at Walkertown
Walkertown Branch Library's latest display case exhibition is a collection of woodworking creations from the Sawtooth School for Visual Art in downtown Winston Salem. The show will be on display through the end of September.
Natalia Tuchina, branch manager at Walkertown Branch Library, interviewed Eddie Fitzgerald, Director of Woodworking at Sawtooth School about the exhibit.
Can you tell me about the show and what's on display?
Fitzgerald: This is a small display of the different things you can actually learn how to do at Sawtooth. We do bowl turning with our instructors Louise Butler, Larry Friedrich, and Jim Terry. We also do more decorative work now, with textured edges and a little inlay. We do everything from smaller items such as lidded boxes and pens to larger bowls. I also do woodturning on a lathe for furniture projects.
On display, we have examples of introductory carving. You can learn how to take almost any piece of wood and make something interesting out of it.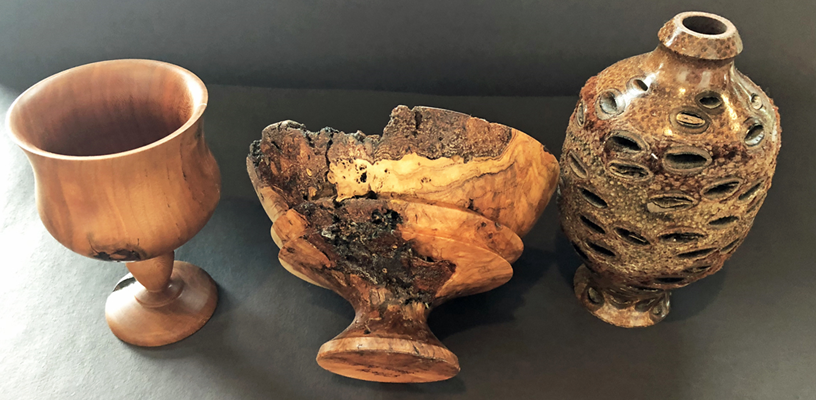 How long have you been teaching woodworking?
Fitzgerald: I've been tutoring people in woodworking for fifteen years and teaching at Sawtooth for four years.
What type of woods are used for these projects?
Fitzgerald: The large platter is made of mahogany with different woods used in the inlay. Other items are made from cherry burl and spalted maple. The streaks are caused by a beetle that bores into the tree, but doesn't kill it. Basswood is used mainly for the carvings. One item is ash with bubinga inlay. Bubinga is also used in pens. It's a tropical hardwood from Africa.
What are your favorite woods to work with?
Fitzgerald: One of my favorite woods to work with is mahogany. After that, probably maple and walnut. Mahogany is easy to work with using either hand or power tools. White oak is the most difficult because it's so heavy and dense, especially when using hand tools.
Why would someone want to learn woodworking?
Fitzgerald: It's extremely satisfying to make something for yourself or to give to someone else instead of going to buy it. It teaches you independence and creativity. It's a very individual type of craft once you learn the basics.
For me, woodworking is a way of life and a way of existing in the world that's extremely satisfying compared to just sitting at a desk.
Collection of woodworking creations from the Sawtooth School for Visual Art will be on display at Walkertown Branch Library through the end of September.
Walkertown Branch Library
2969 Main St. Walkertown, NC 27051
Call (336) 703-2990 for more information.
Click here for driving directions.