By Leslie Peck
Posted Thursday, June 21, 2018
Apply Now to Become an Extension Master Gardener Volunteer!
N.C. Cooperative Extension trains Extension Master Gardener Volunteers to assist with horticulture education. EMGV training covers a variety of topics, including growing fruits, vegetables, flowers, trees, lawns, and more. In return for specialized training, EMGVs dedicate volunteer hours each year to expand Extension's capacity to educate other gardeners.
In Forsyth County, Extension Master Gardener Volunteer (EMGV) training will be held in fall of 2018. Training will be held weekly on Monday afternoons, beginning in August and ending in November. In addition to completing this 40 hour course, EMGV students are also required to volunteer 40 hours of their time with Extension in order to become certified Extension Master Gardener Volunteers.
The EMGV program is open to members of the community who are willing and able to complete volunteer work with Extension in Forsyth County. Both beginning and experienced gardeners are welcome.
If you are interested in becoming an Extension Master Gardener Volunteer, the first step is to fill out an application. Click here to download the application. Return completed applications to Leslie Peck by email at lkpeck@ncsu.edu or by mail at 1450 Fairchild Rd, Winston-Salem, NC 27105.
For more information on the Extension Master Gardener Program in Forsyth County, visit here.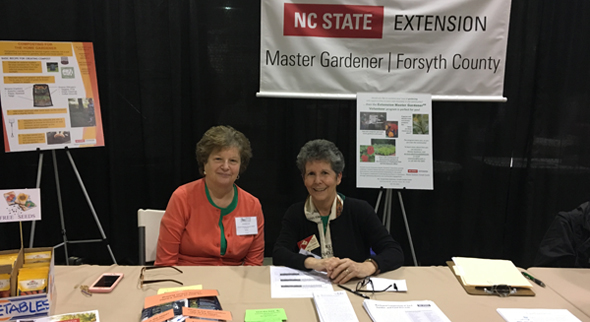 Extension Master Gardener Volunteers sharing information at the Triad Home & Garden Show.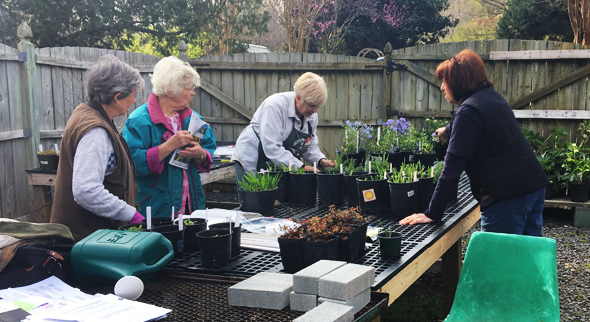 Extension Master Gardener Volunteers working in the nursery at the Arboretum and Gardens at Tanglewood Park.
Extension Master Gardener Volunteers teaching students during Youth Education at the Arboretum at Tanglewood Park.