By Erin McSpadden
Posted Wednesday, May 25, 2016
Cooperative Extension Recognizes Volunteer Efforts
In 2015, Extension volunteers contributed 40,108 hours of work, providing an economic value of $887,991 to Forsyth County. They brought school enrichment and extracurricular programming to over 8,000 local youth in subjects ranging from math and science to agriculture to leadership to art to civics. Volunteers educated over 7,000 citizens in a wide variety of subject matter, including horticulture, livestock, environmentally-friendly farming practices, food safety, and nutrition. They organized and maintained 160 community gardens and provided gardening and horticulture advice to over 6,500 community members.
With numbers like these, it is clear that Extension volunteers make the Winston-Salem community a more verdant, fruitful, and productive place to live. In honor of their hard work, Forsyth County Cooperative Extension Service (FCCES) hosted an appreciation luncheon on April 26, 2016 to thank these volunteers for their selfless contributions of time, energy, and expertise to Forsyth County.
Edgar Miller, Chair of the FCCES Advisory Council, began the recognition ceremony and acted as the emcee throughout the event, sharing heartwarming and humorous stories about volunteers and acts of selflessness that had touched his own life. Allen Keesee, an Extension Master Gardener Volunteer (EMGV) and Forsyth Community Gardening Mentor, and Harriet McCarthy, President of the Extension Master Gardener Volunteer Association, each spoke about their roles as volunteers and the effects volunteerism has on the individual, as well as the larger community. County Commissioners David Plyler, Gloria Whisenhunt, and Richard Linville then presented awards to several outstanding volunteers recognized by Extension.
Tom Tisdale accepted the Volunteer Support Award on behalf of the EMGVs working at the Arboretum at Tanglewood Park, who raised over $40,000 to help construct a deer fence around the Arboretum. The Educational Outreach Awards were earned by two EMGV groups. The Arboretum's Educational committee, headed by Ann McLain, was recognized for their monthly Adult Educational Seminars. The award was accepted on the committee's behalf by Edie Jackson. The EMGV Speakers Bureau, who just finished their outstanding Forks on Fridays lecture series, was the second recipient of the Educational Outreach Award. Wallace Williamson was instrumental in getting that program started, and this award was accepted by Ann Williams on the committee's behalf.
Lorraine Mortis won the Forsyth Community Gardening Volunteer of the Year Award for the organizing efforts she conducted for the program. She works a plot at the "Simon's Green Acre" community garden at the Enterprise Center with the Alpha Kappa Alpha Sorority that has yielded hundreds of pounds of fresh produce for local food pantries. Lorraine also led efforts to create a garden for children at the Bethlehem Community Center. In addition to her work with individual gardens, Lorraine has contributed greatly to the Forsyth Community Gardening Mentor program in various ways, including helping with Mentor trainings and sharing her experiences and lessons learned.
The Extension and Community Association (ECA) Volunteers of the Year were Billie Minish and Janet Rolison. Billie Minish, a 10-year member of University Park ECA club spent 2015 crafting a variety of sewing projects, such as pillowcase dresses, pillows for cancer patients, pillow cases for Brenner Children's Hospital, and walker bags for senior citizens. Janet Rolison, a 22-year member of Griffith ECA club has also spent time sewing an impressive amount of dresses with her sisters, over 1,700 to date, which have been distributed by various church groups and organizations, both in the US and in other countries.
Mary Joe Hanes won the 4-H Volunteer of the Year Award for her help with organizing and managing volunteers for the food at the Clover Classic Livestock Show. Mary Joe was instrumental in beginning and establishing the Clover Classic in Winston-Salem, and by providing daily meals to all of the participants, volunteers, and staff, she developed and maintains its reputation of Southern hospitality and family fun.
And last but not least, the Agriculture Volunteer of the Year was Gary Owen who has opened his farm and shared his knowledge of vegetable production with Extension tour groups. Gary has also made numerous donations of his local products to Extension events and currently serves on the Small Farms and Farm City Advisory Committees.
Extension Director Mark Tucker concluded the awards ceremony with a recognition of Alpha and Omega Church of Faith and Family Institute which has partnered with Cooperative Extension on numerous educational programs for youth and adults. Reverend Huntley and his son Lashon were in attendance. Tucker recognized the great contributions of Mrs. Delores Huntley who passed in December. Her memory lives on with her family, congregation, and through the legacy of her tireless service within the community.
The entire Extension staff and Cooperative Extension Advisory Council would like to thank our dedicated volunteers for all their hard work. Your accomplishments are truly astounding, and we are fortunate to work with such involved, caring citizens to better our community.
Lorraine Mortis - Forsyth Community Gardening Volunteer of the Year award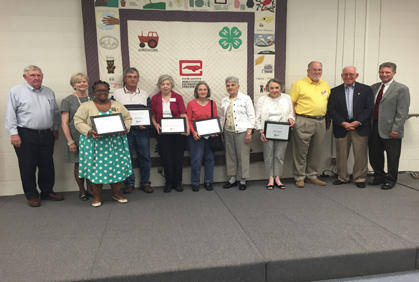 2015 Volunteer Appreciation Award Recipients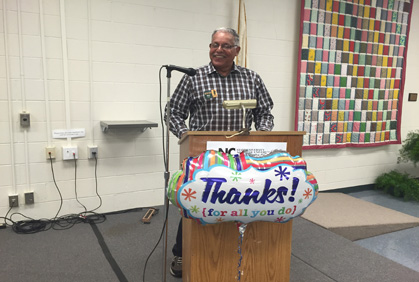 Speaker Allen Keesee, EMGV and Community Garden Mentor