By Ashleigh Sloop
Posted Thursday, May 1, 2014
Sheriff's Office K-9 Unit Receives Generous Donation
The Forsyth County Sheriff's Office proudly announces that its K-9 Unit has received a generous donation of Kevlar protective vests and other related equipment for its canines. These items have been donated by the community orchestrated by Ms. Geralyn Kelly through her canine training center, Elite Canine and co-owners of wholePET, Steve Kline and Barry Blevins.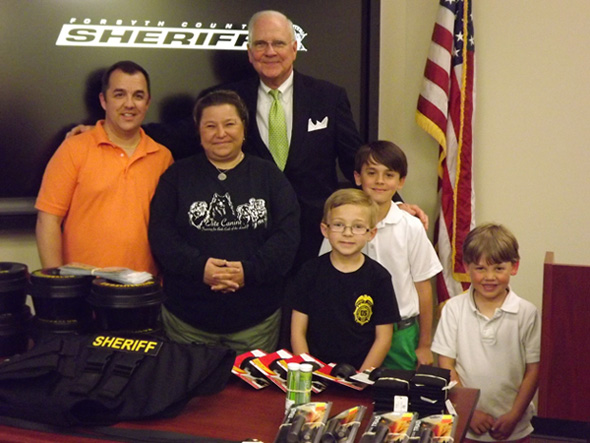 The Sheriff's Office K-9 Unit is essential to protecting and preserving the safety and security of our community. Our K-9 Units are specially trained to detect drugs, firearms, and track and apprehend suspects. Law enforcement canines risk their own lives in the line of duty and are being injured and killed more frequently than ever. With the addition of these protective vests, our canines have a vital layer of protection while carrying out their daily duties.
During a recent incident in a neighboring county, a law enforcement canine was killed in the line of duty. As a result of that incident, Ms. Geralyn Kelly contacted the FCSO and subsequently began raising funds from the community to purchase equipment. Through Ms. Kelly's efforts and the community we serve, over $3,300 was donated toward the purchase of Kevlar vests and other canine equipment.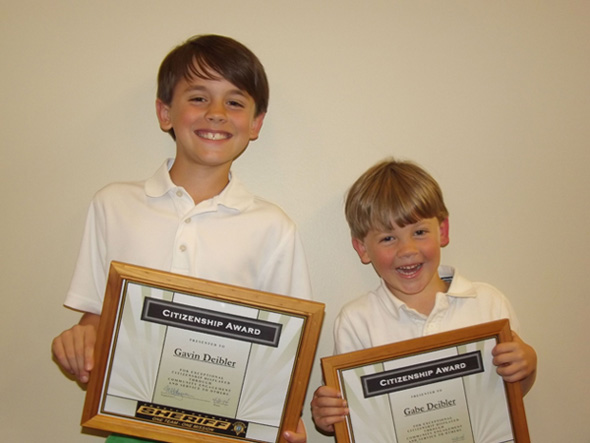 Sheriff Schatzman also recognized two young men who raised $466 selling cupcakes in support of this effort. Brothers Gavin and Gabe Deibler are students at Elite Canine training their family dog, who they adopted from a local rescue center. Gavin and Gabe made 216 cupcakes and sold them to raise funds for the protective vests and other needed equipment. Sheriff Schatzman presented Gavin and Gabe with the Citizenship Award for community engagement and service to others.