By Kathy Hepler
Posted Thursday, December 20, 2012
Youth in Forsyth & Stokes County win top awards at NC State Fair this year.
At the NC State Fair, held October 11-21 in Raleigh, nine Forsyth County youth exhibited livestock in the junior shows and 28 Stokes County youth. In addition, twelve people from Forsyth showed in the Special Livestock Show and one person from Stokes. Special exhibitors from Forsyth include: Sarah Ashby of Kernersville, Tiffany Boyd of Winston-Salem, German Garcia from Kernersville, Kylin John of Pfafftown, Paul Ketner, of Germanton, Lavinia Ocasio Navarro from Winston-Salem, Dessmundd Petch also of Winston-Salem, Brad and Chad Pettitt of Rural Hall, Charlene Seat of Winston-Salem, Emily Thomason of Kernersville and Morgan Wood of Winston-Salem. The Special Exhibitor from Stokes County was Mike Smith. Mike helped start the Special Show at the NC State Fair, Dixie Classic Fair and the Stokes County Fair. He recently celebrated his 50th Birthday was awarded the "Ambassador of the Barn" award from the NC Cattlemen's Association.
(Pictured are Mike Smith, "Ambassador of the Barn" and Neil Bowman, Livestock Marketing Director for the NC Department of Agriculture.)
Youth exhibiting Dairy Goats at the fair included brothers, Eli, Lucas and Bubba Bell of Pfafftown. Bubba was selected as the Grand Champion Peewee Dairy Goat Showman, Lucas earned 1st place in Peewee showmanship and Eli was the Grand Champion Intermediate Showman. Eli also earned Grand Champion with his Alpine Doe named "Cider". Lucas earned the Champion Junior Recorded Grade Doe award with "Ally" and the Reserve Champion Recorded Grade Doe with "Noodle".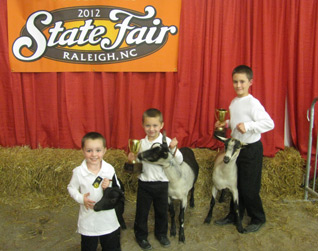 Bell brothers with their Dairy Goats.
Clara Fishel, Kernersville - 1st Hereford Steer.
Lynae Bowman, Germanton Grand Champion All Other Breeds Heifer with her heifer, "Lizzy Beth", who is a Chimaine.
Brandon Hartman was the Grand Champion Red Angus Heifer.