By April Bowman
Posted Wednesday, November 2, 2011
4-H'ers Win Awards at NC State Fair Livestock Judging
Forsyth, Stokes and Yadkin County 4-H youth joined forces to create a Livestock Judging team for the NC State Fair contest. On Saturday, October 29th, youth judged two classes of meat goats, four classes of beef breeding heifers, three classes of hogs, and two classes of sheep. Each class had four animals in it and the young people were charged with placing them the same way that the official judges for the contest did. When the contest was over, the Senior team which included: Bryan and Brandon Hartman who live in Stokes County and participate in both Forsyth and Stokes 4-H, Saige Gilliam and Caitlin Caudle of Yadkin County placed second in the 14-18 year old competition. The 13 and under team which included: Lynae Bowman and Daniel Westmoreland, both of Stokes County who participate in both Forsyth and Stokes 4-H program, Leah Thomas of Yadkin County, Melanie Fishel and Tyler Bradshaw, both of Forsyth County, placed third overall.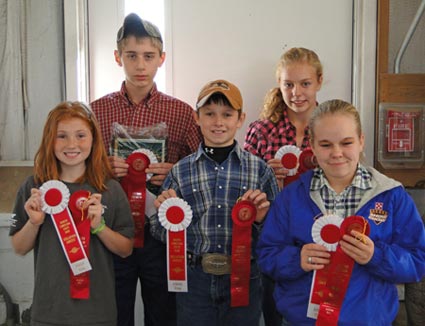 On Sunday, October 29th, the teams competed in the livestock skill-a-thon competition. They identified different cuts of meat, breeds of livestock, feed substances, equipment and took a written test about livestock. Tyler Bradshaw was second overall in the State for the juniors, leading his team to finish second overall. In the senior division, thirteenth was Saige Gilliam, Bryan Hartman was tenth and finishing two points higher in ninth was his brother Brandon Hartman. In seventh place was Caitlin Caudle. With all four team members placing in the top 15, their team was able to bring home the championship.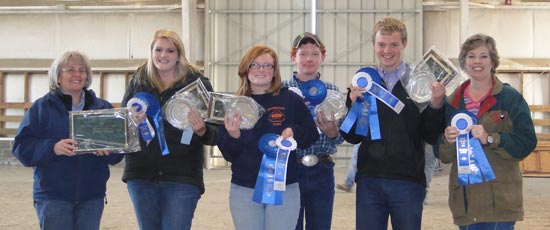 Their next competition will be held in January. If you or someone you know ages, 9-18 are interested in learning to judge livestock please call April Bowman at 703.2855 or email her april_bowman@ncsu.edu. You don't have to currently be enrolled in 4-H or live on a farm to participate.
In addition, the youth also won the following:
Tyler Bradshaw
3rd Overall
2nd Overall in Beef Cattle
5th Overall in Swine
8th Overall in Sheep
10th Overall in Meat Goats
Melanie Fishel
5th Overall in Meat Goats
Junior Team
3rd Overall in Sheep
3rd Overall in Meat Goats
3rd Overall in Swine
4th Overall in Beef Cattle
4th Overall in Oral Reasons
Brandon Hartman
9th Overall in Sheep
9th Overall in Beef Cattle
8th Overall in Oral Reasons
8th Overall
Bryan Hartman
10th Overall in Swine
Caitlin Caudle
3rd Overall in Meat Goats
8th Overall in Swine
Senior Team
1st Overall in Sheep
3rd Overall in Meat Goats
1st Overall in Swine
2nd Overall in Beef Cattle
1st Overall in Oral Reasons