By Ashleigh Sloop
Posted Wednesday, April 6, 2011
Gerald Brooks Retires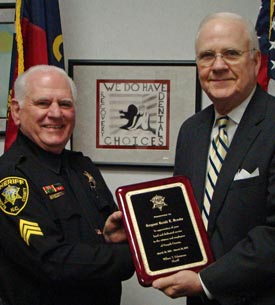 After 20 years of service to Forsyth County, Sergeant Gerald Brooks has retired from the Forsyth County Sheriff's Office.

Sergeant Brooks began his service in 1991 at the LEDC as a Detention Officer and has worked in the Training Division and other areas at the LEDC. Sergeant Brooks was instrumental in making the move to the new detention facility a success in 1995. Sergeant Brooks was well respected during his career by fellow coworkers and will be missed.

Congratulations Sergeant Brooks!