Celebrate Forsyth Creek Week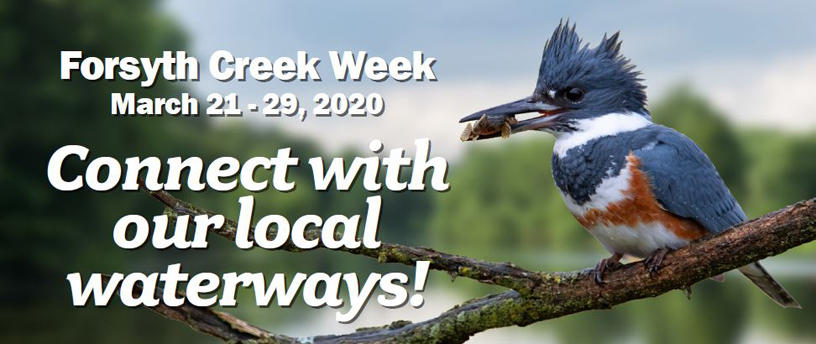 Forsyth Creek Week is March 21 - 29, 2020. During this week, there are fun and informative activities for all ages happening throughout Forsyth County in honor of our waterways. Visit your local library and learn more about these amazing and vital natural resources.
All Forsyth County Public Library programs are free and open to the public."
Creek Week's goal is to connect Forsyth County residents with our local waterways through a variety of activities. This week-long observance will provide opportunities for them to discover and explore local streams through educational programs, recreational activities, and a volunteer service project. The objective of all of these opportunities is to help residents learn more about their own connections and impacts on our local waterways. Who can have fun during creek week? EVERYONE! Movie Buffs, Book Lovers, Birdwatchers, Boy Scouts, Anglers, Sportsmen, Nature Lovers, Teachers, Kids, Moms, Dads, Toddlers, Gardeners, Photographers.
For more information, visit the official website.
Forsyth Creek Week is a county-wide initiative organized by the City of Winston-Salem Stormwater/Erosion Control Division, Forsyth County Parks & Recreation, Forsyth County Extension Service, Town of Kernersville, Village of Clemmons, the Audubon Society, Forsyth County Environmental Assistance and Protection, Forsyth County Public Library, the Gateway Environmental Initiative, Keep Winston-Salem Beautiful, Old Salem Museums & Gardens, the Sierra Club, Winston-Salem Sustainability Resource Center, and the Yadkin Riverkeeper.