A dog park (Horizons Happy Hounds) opened at Horizons Park on Saturday, July 21, 2007. This dog area is designed for dogs to legally run off leash in a 2-acre fenced area. Part of the area is fenced for small dogs, another larger area for big dogs.
Funds were donated to Forsyth County to construct this new facility from the Edna B. Parkin Georges Animal Fund, which is administered by the Winston-Salem Foundation. The balance was raised by the Forsyth County Bark Park Committee through fund raisers and donations. The Bark Park Committee was chaired by Ms. Darlene Pruitt. Total funds raised were $48,585.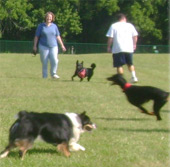 The off-leash dog area also offers water fountains for people, another fountain bowl for dogs, scattered benches, trash can receptacles and dog waste stations.