The Forsyth County Register of Deeds office issues Thank A Veteran Discount Cards to Veterans for discounts at local participating businesses. The card is free.
To obtain the card, the Veteran should bring the original DD-214 Form Discharge form or a copy of the record as proof of service. A certified copy is not required. If the discharge form has already filed in the office, it can be verified when applying for the card. Valid government issued photo ID must be presented by the Veteran before the card is issued. Only the Veteran is entitled to the card. Spouses and children are not eligible.
The discount card cannot be used in place of a Veterans Administration Card (VA Card), Military ID, or any other type of official identification.
The discount ID Card is issued Monday through Friday from 9:00am - 11:00am and 2:00pm- 4:00pm.
For a list of participating merchants - click here to View Merchant List
Thank You For Your Service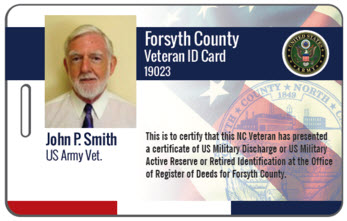 ROD Director
Contact Us
201 North Chestnut Street
Winston-Salem, NC 27101

Phone: 336 703 2700 (Live)

Phone: 336 703 2700
(After Hours Recording)

Fax: 336 748 3158

Email: Contact Us
Office Hours
8:00 — 5:00 (Monday — Friday)
Obtain Marriage License
8:00 — 4:30 (Monday — Friday)