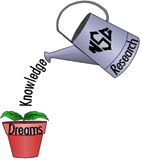 Do you have a desire to learn more about growing plants? Are you interested in fruits, vegetables, ornamentals or lawns? Are you interested in volunteering your time and gardening talent in projects that benefit the citizens of our county?
If so, you may be interested in the Extension Master Gardener Volunteer Program offered by Forsyth County Cooperative Extension. The program provides participants with 40 hours of in-depth training in the art and science of horticulture. Class participants receive current, research based information from Extension educators. In return, trained Extension Master Gardeners volunteer their time and expertise in support of many community programs and activities.
Master Gardener volunteers are recognized as well-trained practitioners who serve and beautify their communities and are linked to a professional network of support through county, state and national Cooperative Extension offices.
View the Extension Master Gardener Volunteer brochure
If you are interested in learning more about the Forsyth County Extension Master Gardener Volunteer program or would like an application, please contact N.C. Cooperative Extension, Forsyth County Center at 336-703-2850 or by email.
If you are interested in attending an upcoming educational class on gardening, landscaping, or other horticultural topics, please visit our calendar of events