Since 2002, the library's On The Same Page community read has asked everyone to come together around reading and discussing a book that takes on complex issues and provides rich material for discussion.
2019 Book Selection
"Speak No Evil"by Uzodinma Iweala
Sept. 5-Oct. 5, 2019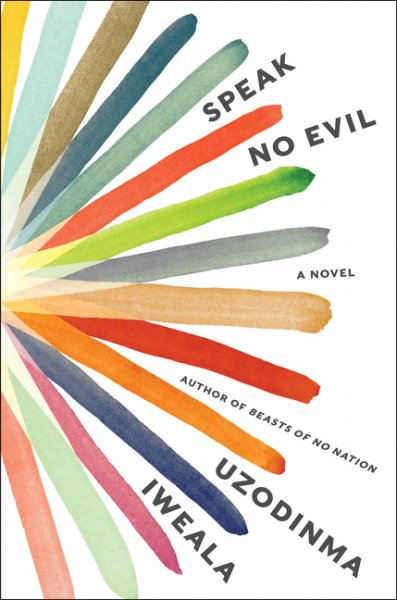 "Speak No Evil" is a coming-of-age novel about two privileged teenagers from different backgrounds who share a secret that sets off a chain of events with devastating consequences. The book explores what it means to be different in a conformist society and how that plays out in our inner and outer struggles.
Each branch library will have a variety of programs related to "Speak No Evil," ranging from book club discussions, movies and lectures to craft and cooking programs.
On The Same Page Kickoff Events with Dr. Uzodinma Iweala
Speaking Your Truth
Thursday, Sept. 5 from 4-5 p.m. at Winston-Salem State University
The power, perils and potential for young African Americans in the 21st century. A Q & A and book signing will follow the talk.
Write What You Want to Know
Friday, Sept. 6 from noon-1:30 p.m. at Central Library
Dr. Uzodinma Iweala on writing "Speak No Evil."
Featured Programs
"Speak No Evil" at Bookmarks Festival of Authors on Saturday, Sept. 7 in Downtown Winston-Salem
Do You See Me? The Importance of Inclusive Characters


Saturday, Sept. 7
4-4:45 p.m.
Hanesbrands Theatre
A conversation about the need for LGBTQ inclusiveness in literature with two bestselling authors who regularly include such characters. Becky Chambers is the author of "The Wayfarers" trilogy and Amber Smith is the author of "Something Like Gravity." Meet Amber Smith at the library's information booth from 2:30-3 p.m.
Presented with support from Bookmarks Festival
Reading Between the Lines
Angela Mazaris
Monday, Sept. 9
6-8 p.m.
Central Library Auditorium
How do historians document historical and contemporary LGBTQ stories in the United States? Angela Mazaris, founding director of the Wake Forest University LGBTQ Center and affiliate faculty in Women's, Gender, and Sexuality Studies, will discuss the Winston Salem LGBTQ Oral History Project, and facilitate audience discussion and Q&A on local LGBTQ history.
"Moonlight"
Tuesday, Sept. 17
6-8 p.m.
Central Library Auditorium
The tender, heartbreaking story of a young man's struggle to find himself, told across three defining chapters in his life as he experiences the ecstasy, pain and beauty of falling in love, while grappling with his own sexuality. "Moonlight" received the 2016 Academy Award for best picture. This film is rated R. Minors must be accompanied by an adult.
When We Become Them
Tuesday, Sept. 24
6-8 p.m.
Malloy Jordan/East Winston Heritage Center
African African Americans move into positions of power in law enforcement, what are the challenges and opportunities in reversing the long-standing distrust between law enforcement and minority communities? A panel discussion followed by Q & A with local community leaders and law enforcement, moderated by Diarra Leggett, with the Forsyth County Public Library.
High School Race Relations Panel
Friends Not Foes: Forging Interracial Friendships
Wednesday, Sept. 25
6-8 p.m.
Central Library Auditorium
Panel discussion among local high school students on the challenges and opportunities of interracial friendships in bridging America's racial divide.
Sponsored by the City of Winston-Salem Human Relations Commission
LGBTQIA: The Next Generation
Nyles Claire Suer, North Star LGBTQ Community Center
Monday, Sept. 30
6-8 p.m.
Central Library Auditorium
What is it like to be young and identify as LGBTQ in Winston-Salem? A panel moderated by Nyles Claire Suer, director of the North Star LGBTQ Community Center in Winston-Salem.
Wazobia
On The Same Page Finale
Saturday, Oct. 5
6-8 p.m.
Central Library Auditorium
A celebration of the food and music of Nigeria.
You can download our On the Same Page brochure for more information on all programs at all FCPL branches.





2018 Book Selection

Pretty Monsters by Kelly Link

2017 Book Selection

Take Out: A Sigrid Harald Novel by Margaret Maron

2016 Book Selection

Animal, Vegetable, Miracle by Barbara Kingsolver

2015 Book Selection

In the Heart of the Sea by Nathaniel Philbrick

2014 Book Selection

Serena by Ron Rash

2013 Book Selection

The Pursuit of Happyness by Chris Gardner

2012 Book Selection

The Warmth of Other Suns by Isabel Wilkerson

2011 Book Selection

The Road to Devotion by Cameron Kent

2010 Book Selection

The Maltese Falcon by Dashiell Hammett

2009 Book Selection

Their Eyes Were Watching God by Zora Neal Hurston

2008 Book Selection

Fahrenheit 451 by Ray Bradbury

2007 Book Selection

Ender's Game by Orson Scott Card

2006 Book Selection

The Land Breakers by John Ehle

2005 Book Selection

In the Time of the Butterflies by Julia Alvarez

2004 Book Selection

I Know Why the Caged Bird Sings by Maya Angelou

2003 Book Selection

Walking Across Egypt by Clyde Edgerton

2002 Book Selection

To Kill A Mockingbird by Harper Lee