More Books We Like
Need a New Author?
Get printable versions of these lists by clicking on the list name.
Books We Like: From the "Queen of Christmas"
Published 12/29/2019 by Brittney Barbour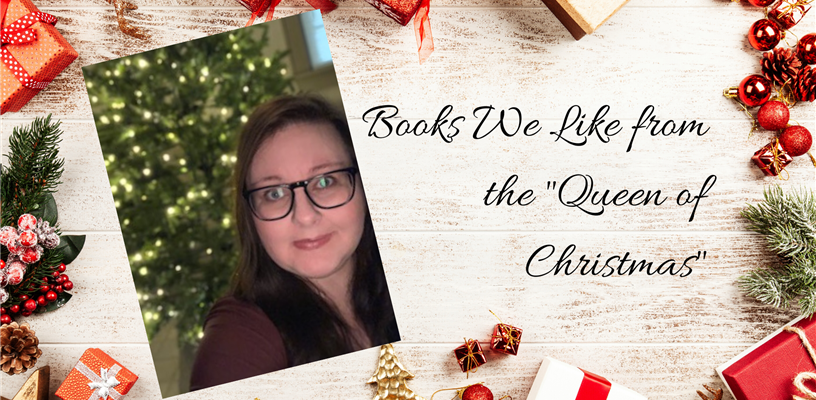 As a self-proclaimed, "Queen of Christmas", I will be the first to admit that I am one of those Christmas people. I love all things Christmas: the lights, music, family time, the food, and especially the stories. Now, I know not everyone is as enthusiastic as my family can be - that's why I've narrowed down just a few of my favorite holiday stories to share with you. So pull up a chair and settle in with a cozy cup of hot chocolate and let these fantastic stories get you in the holiday mood. All of these titles are available in the Forsyth County Public Library system and available for download through Libby. So pick one up or place a hold today! "Take Me Home for Christmas," Brenda Novak "Take Me Home for Christmas" is not your typical Christmas novel. This story weaves in all kinds of dramatic elements that add to the magic. Embezzlement, the FBI, old flames, and a major life change all work their way into this nontraditional romance. Sophia DeBussi has lived a privileged life. She has it all - a mansion, a rich husband, a beautiful daughter. But things are not always what they seem. When Sophia's husband disappears during a trip on their yacht, her life seems to unravel before her eyes. Through a tragic turn of events, Sophia is forced to take control of her life by any means necessary even if it means accepting a job from her old boyfriend, Ted, who makes no secret that he despises all Sophia stands for. Can Christmas prove to be a time of forgiveness and love? Will Ted look beyond the hurt of his past and see Sophia in a new light or will he stay set in his cold ways. "Take Me Home for Christmas" is a wild but endearing ride to find out if love conquers all at Christmas time. "Twelve Days of Christmas," Debbie Macomber "Twelve Days of Christmas" is a fun, festive read. Fans of Debbie Macomber will recognize her quick wit and joyful spirit. This is a perfect quick read to get you in the holiday spirit. Julia is the quintessential girl-next-door. Everyone loves her. She's friendly, bright, and bubbly. She is the perfect neighbor to everyone, except her curmudgeonly neighbor, Cain. No matter what she does, she can't seem to have one positive interaction with Cain, and that was before she caught him stealing her newspaper. Determined to not let Cain's Scrooge-like attitude dampen her Christmas cheer, Julia decided to "kill him with kindness" and record her antics in her blog. Does Julia stand a chance to win over the biggest Grinch of all or will her experiment fall flat? "Twelve Days of Christmas" proves that sometimes the biggest risks earn the biggest rewards. "The Mistletoe Secret," Richard Paul Evans Midway, Utah seems like the perfect Christmas town, with beautiful scenery, friendly people, and all the snow you can imagine. But even with this perfect setting, Aria is still lonely. In an effort to combat her loneliness, Aria starts a blog where she can express her deepest, most personal stories.To hide her identity she uses the pen name, LBH. She never thought anyone would read her blog, but Alex did. Miles away in Daytona Beach, Alex was nursing his own broken heart when he stumbled across Aria's blog. After some serious sleuthing, Alex crosses the country in an effort to find the mysterious LBH. Will Alex be able to find his mysterious blogger? Will Aria find someone to fill the loneliness? "The Mistletoe Secret" is a heartwarming tale sure to delight all readers this holiday season. "Mr. Miracle", Debbie Macomber "Mr. Miracle" celebrates all the very best of Christmas - love, joy, hope, and the comforts of home during the holiday season. Harry is a guardian angel on a mission, to help Addie get her life back on track and, just maybe, find true love. Addie, returning home for Christmas, and for good, has decided to enroll in community college and complete her degree. A fateful turn of events lands her caring for her neighbor, and childhood crush, Erich. Polar opposites are one way to describe their personalities, but with a little divine intervention, this Christmas may prove to be one neither Addie or Erich will forget.