Community & Economic Development
Code Enforcement
Our Code Enforcement Officer enforces the minimum housing standards throughout the county focusing on the health and safety of occupants/neighbors.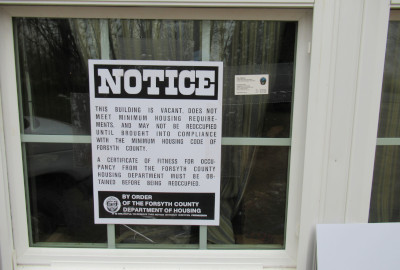 Homes Not Up to Code?
File a Minimum Housing Code complaint in Forsyth County
Can Forsyth County assist with your complaint?
Forsyth County can assist with
Tall grass/ overgrown shrubbery
Forsyth County cannot assist with
Business run out of residential properties
Occupied tent/camper complaints
If we cannot advise, please contact:
Contacts for Zoning /Code Enforcement:
City of Winston-Salem:
City Link Phone: 336-727-8000

Environmental Assistance and
Protection Department
Michael Settle
, 336-703-2443
Fair Housing Statment
Forsyth County does not discriminate on the basis of race, color, religion, national origin, ancestry, age, sex, familial status, physical handicap or disability in its employment opportunities, programs, services or activities.
Community & Economic Development
201 North Chestnut Street
Fifth Floor
Winston-Salem, NC 27101

Phone: 336 703 2684

Fax: 336 727 8580

Email: Contact Us