Learn More about COVID-19
What is COVID-19?
The novel coronavirus causing COVID-19 (SARS-CoV-2) is NOT the same as the coronaviruses we have seen in the past that cause mild illnesses, like the common cold. The virus spreads through close contact by respiratory droplets and particles that are produced when an infected person breathes, coughs, sneezes, and talks. These particles can then be inhaled into the nose, mouth, airways and lungs. Research also shows that COVID-19 can sometimes spread by airborne transmission, and less commonly through contact with contaminated surfaces.
Symptoms:
Infected individuals may have a variety of symptoms, or can be asymptomatic (not show any symptoms). Even those without symptoms will still infect others with the virus. Long term side effects are still being researched, however long-term symptoms have been reported that include: difficulty with thinking and memory problems, acute kidney injury, inflammation of the heart muscle and heart palpitations, lung function abnormalities, and psychiatric changes.
Use the following self-checker from the CDC if you need help deciding if you should get tested or seek medical care for COVID related symptoms or exposure.
Additional Information:
What to do if you or someone in your home is sick.
The latest updates on current restrictions in North Carolina (Secretary Orders & Executive Orders).
Is it COVID, Seasonal Allergies, or the Flu?
Testing is Available in Our Community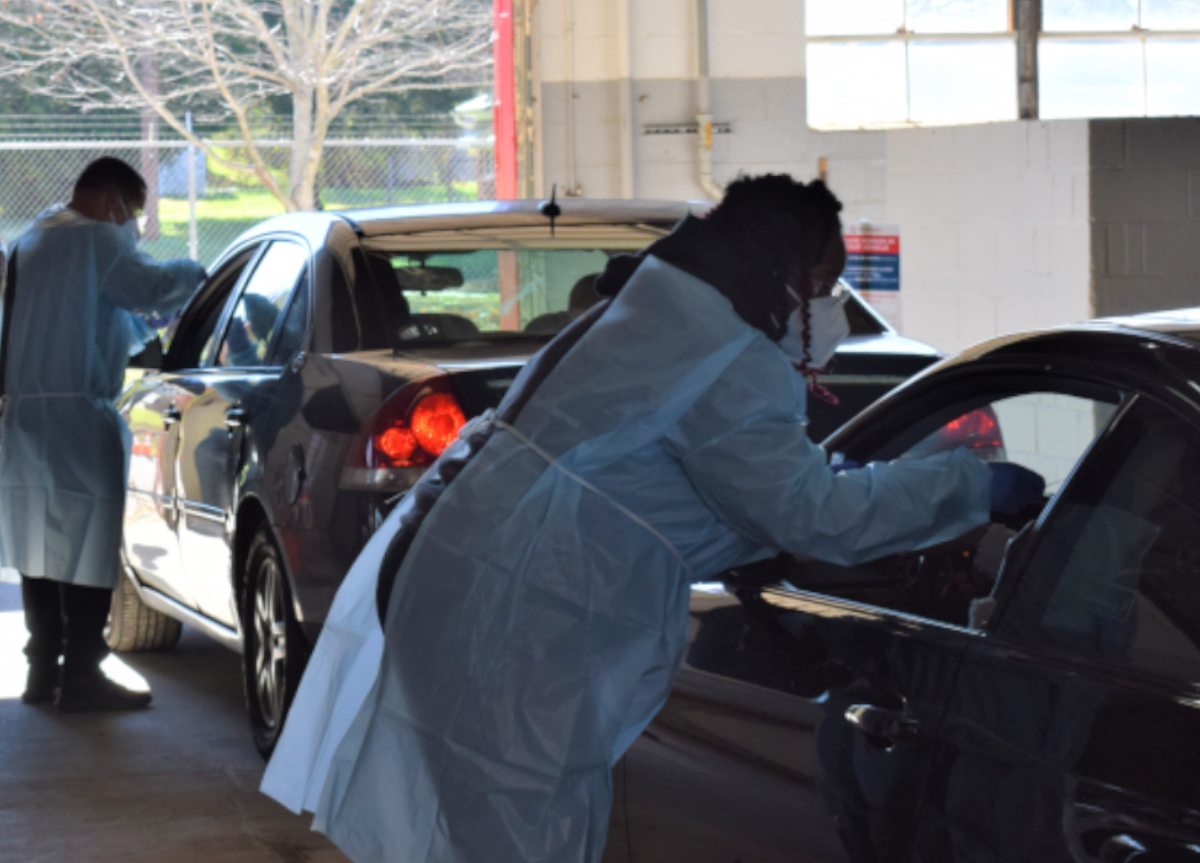 Testing Information and Locations1
1 The sites listed provide testing for COVID-19. Some require an appointment and/or a referral from a health care provider. Locations are subject to change.
Forsyth County Government Mask Policy
Masks are required for visitors and employees in all Forsyth County buildings. Masks will be provided to visitors who do not have one.
This is in response to the substantial transmission of COVID-19 in Forsyth County. The latest guidance from the NC Department of Health and Human Services (NC DHHS) and the Center for Disease Control (CDC) advises everyone in areas with substantial or high spread to wear masks in indoor public settings, regardless of vaccination status, to prevent the spread of the Delta variant of COVID-19.
Getting vaccinated is still the best way to prevent serious illness, hospitalizations and death, and slow the spread of the virus. Free COVID-19 vaccinations are widely available in the community, including at the Forsyth County Department of Public Health.
Ask Questions About the Stay-At-Home Order
Forsyth County
Stay-at-Home Order Helpline
Monday through Friday
9 a.m. - 5 p.m.
Forsyth County
COVID-19 Helpline
Monday through Friday
9 a.m. - 5 p.m.
Do you have questions about the Governor's Safer at Home Order?
Residents and businesses within Bethania (336) 922-0434, Clemmons (336) 766-7511, Lewisville (336) 945-5558, Rural Hall (336) 969-6856, Winston-Salem 311, and King (336) 983-8265, please refer your questions to those municipalities.
Ask your question below in detail, and you will receive a return email within one business day, depending on the volume of questions.
To speak with someone, call (336) 464-7800 Monday through Friday, from 9 a.m.-5 p.m.